Sniff-Thru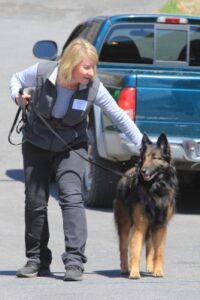 EVENT CLOSED!
Date: Sunday February 5th – 10:30am-4:30pm
Location: Kimball Lodge, 8000 Ridge Rd, Clarkson, NY (Brockport)
10:30 am
– Elite – 2 searches ($35) 
Approximately 1:30 pm
– Big Container search ($10) 
– NW2/3 Exterior and interior ($25)
---
COMPLETED SEMINARS
• Intro to Scent Work/Skill Building through Scent Work Games:
Susque-Nango Kennel club, Binghamton, NY, January 27th, 2019, contact Stephanie at [email protected] (currently full and keeping a wait list)
• AKC Scent Work: Canine Sports Unlimited, March 10, 2019, Whitesboro, NY (near Utica), contact Nathalie Lussier at [email protected]
• HOSTING: Obedience Seminar, Kamal Fernandez, April 6-7, 2019,  Honeoye Falls, NY. One working spot has freed up for Saturday – Drive and Motivation. Limited Auditing spots. Click here for Flyer.
• Obedience/Nosework: Fenzi Dog Sports Academy Sports Camp, May 17-19, 2019, Lebanon, PA.
• HOSTING: Julie Flanery, June 14-17, 2019 Honeoye Falls, NY. Click HERE for flyer. Registration is now open!
• HOSTING: Sarah Stremming, October 25-27, 2019 Honeoye Falls, NY. 1 day Hidden Potential, 2 day Worked up. Click here for flyer.
• Nosework: Proof Positive/Handlers Roll/Scent Work Games, December 7-8, 2019 Arkansa City, Kansas, register at http://sckkc.com/